NOTE: All seating is first come first serve.
A ticket does not guarantee a seat.
You must be a student or staff to attend
If you are not a student please contact an admissions representative.
All students and staff must have your school-issued ID visible and with you at all times.
 Tickets reserved with duplicate emails and/or duplicate names will be deleted.
The Los Angeles Film School and Jeff Goldsmith Present: A Screening of 

the 2017 Waldo Salt Screenwriting Award Winner at the
Sundance Film Festival
Ingrid Goes West
followed by a Q&A with co-writer David Branson Smith and
co-writer/director Matt Spicer!!!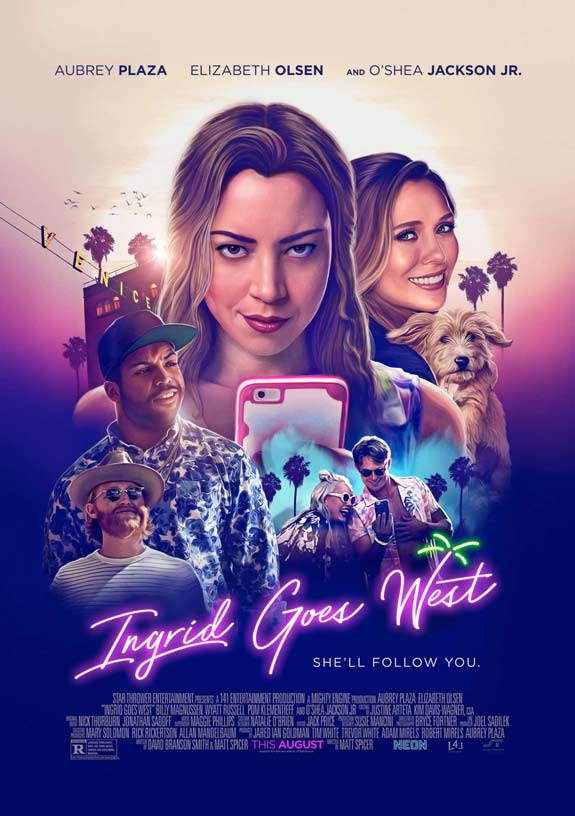 6363 Sunset Blvd. Hollywood CA, 90028
B1 Main Theater – 7:30 PM
Wednesday, August 30, 2017
Runtime: 97 min
Rating:R for language throughout, drug use, some sexual content and disturbing behavior.
Synopsis:
Ingrid Thorburn (Aubrey Plaza) is an unhinged social media stalker with a history of confusing "likes" for meaningful relationships. Taylor Sloane (Elizabeth Olsen) is an Instagram-famous "influencer" whose perfectly curated, boho-chic lifestyle becomes Ingrid's latest obsession. When Ingrid moves to LA and manages to insinuate herself into the social media star's life, their relationship quickly goes from #BFF to #WTF.
Built around a brilliantly disarming performance from Aubrey Plaza, Ingrid Goes West (winner of the Waldo Salt Screenwriting Award at Sundance) is a savagely hilarious dark comedy that satirizes the modern world of social media and proves that being #perfect isn't all it's cracked up to be.
VIEW TRAILER: HERE
RSVP: HERE

****This ticket does not guarantee a seat ****
 We take a larger number of RSVPs than seats available to compensate for the no-show percentage so all seating is first come first serve. If tickets are sold out you are welcome to show up and you will be seated if room becomes available. LA Film School students / staff / faculty / alumni, please line up inside the theatre lobby. Use of cell phones or computers during the screening is strictly prohibited and you will be asked to leave.
 If you feel you are unable to stand in line for a long period of time, we kindly request that you take a seat on the benches in the B1 theatre lobby and have your guest stand in line to secure a spot. Then when guest/s arrive to the point where they can enter and check in, you will walk in with your guest. Unfortunately, no one will be allowed in before the doors officially open, since we have to give the production team time to set up and test the equipment without an audience.