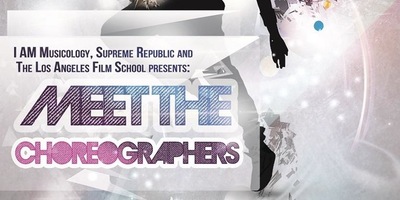 I AM Musicology x Supreme Repubic Entertainment x The Los Angeles Film School
Presents:
Meet the Choregraphers
This special event will feature a dance competition and in-depth panel discussion from some of the most respect street dancers and choregraphers.
Panelist/Judges:
Shane Sparks (You Got Served, Former Judge on America's Best Dance Crew and more!)
Free Boogie ( Justin Bieber, Omarion, Marques Houston , Tyrese Gibson ,The New Boyz)
Jivanita Roberts ( Vivica Fox, Ciara, Torey Lanez)
Anthony 'AJ' Jackson ( Brittney Spears, Dawn Richard and more)
More names to be announced!
Celebrity Red Carpet
Food & Drinks provided
We will be raffling off prizes
Information for those entering dance competition.
The first 25 entry's will be allowed to participate in the preliminary round
Groups and Singles welcome!
All dancers have 45 seconds to rock each battle/ round
All dancers must be prepared to dance to the music we provide, you will not be allowed to provide music for your routine.
There will be a preliminary round of 25 in which 6 groups and 6 singles will be admitted into the round 1 or 12 singles. From there four groups and four singles will advance to round two. The last two standing in each round will battle in the final round.
Each battle is one and done unless otherwise stated
During battles there will be a blue side competing against the red side.
Any other inquiries please email iammusicology@gmail.com
Winners will take home prizes and gear!
Talent/Red Carpet Submission please RSVP to iammusicology@gmail.com
All sponsor request email iammusicology@gmail.com
WHEN
Thursday, April 28, 2016 from 7:00 PM to 10:00 PM (PDT) – Add to Calendar
WHERE
Ivar Theater – Ivar Theater – 1605 Ivar Ave Los Angeles, CA 90028 , Los Angeles , California 90028 – View Map
RSVP