NOTE: All seating is first come first serve.
A ticket does not guarantee a seat.
You must be a student or staff to attend
If you are not a student please contact an admissions representative.
All students and staff must have your school-issued ID visible and with you at all times.
 Tickets reserved with duplicate emails and/or duplicate names will be deleted.
Telemundo and The Los Angeles Film School present a Q&A session:
CONTRIBUTIONS OF LATINAS IN THE
MUSIC WORLD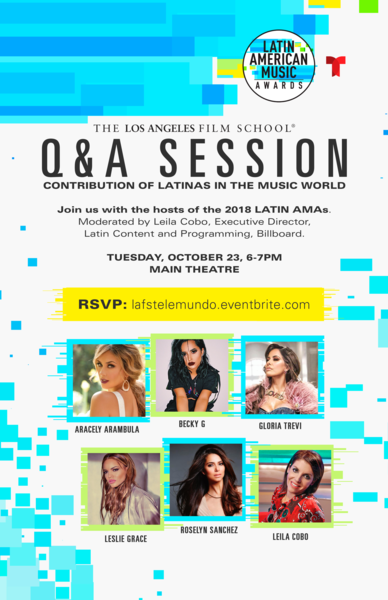 6363 Sunset Blvd. Hollywood CA, 90028
B1 Main Theater – 6:00 PM
Tuesday, October 23, 2018
The panel will be the hosts of the Latin AMAs 2018 comprised of all women. They will discuss the contributions of Latinas in music and their role today.
There are many women who defied the mold, cementing their place in Latin music and changing the shape of music itself. Women such as Gloria Estefan, Celia Cruz, Selena, Ivy Queen, Lola Beltran, Olga Tañon, and Andrea Echeverri. Today, the movement is gaining strength again and there is a new group of Latinas who are not only pushing their way through genres that were primarily male, but who are also supporting each other, producing collaborations and working together to reach new heights and impact today's music world whether in Spanish, English, or both. How are they doing it? What motivates them? What barriers have they had to overcome? What is their message to those trying to break through in the music world? They will discuss this and more during this provocative panel. 
Panel will include:
Becky G known professionally as Becky G, is an American singer and actress. Gomez first gained recognition in 2011 when she began posting videos of herself covering popular songs online
Leslie Grace known professionally as Leslie Grace, is an American singer and songwriter.
Araceli Arambula  known professionally as Aracely Arámbula, is a Mexican actress, model, singer, television personality and entrepreneur.
Roselyn Sanchez is a Puerto Rican singer/songwriter, model, actress, producer and writer. On television, she is best known for her roles as Elena Delgado on the CBS police procedural Without a Trace, and as Carmen Luna on the Lifetime comedy-drama Devious Maids.

****This ticket does not guarantee a seat ****
 We take a larger number of RSVPs than seats available to compensate for the no-show percentage so all seating is first come first serve. If tickets are sold out you are welcome to show up and you will be seated if room becomes available. LA Film School students / staff / faculty / alumni, please line up inside the theatre lobby. Use of cell phones or computers during the screening is strictly prohibited and you will be asked to leave.