The Student Experience in Hollywood
The Los Angeles Film School is located on Sunset Boulevard in the heart of Hollywood, offering an urban campus that spans over 250,000 square feet of classrooms, labs, and production stages. Our campus is a hub of creativity and innovation, boasting professional-grade equipment and software commonly employed in real-world production settings. Students receive hands-on training using groundbreaking technology from industry leaders like Avid, Sony, ARRI, Wacom, SSL, Neve, and many others.
CAMPUS, FACILITIES
&

EQUIPMENT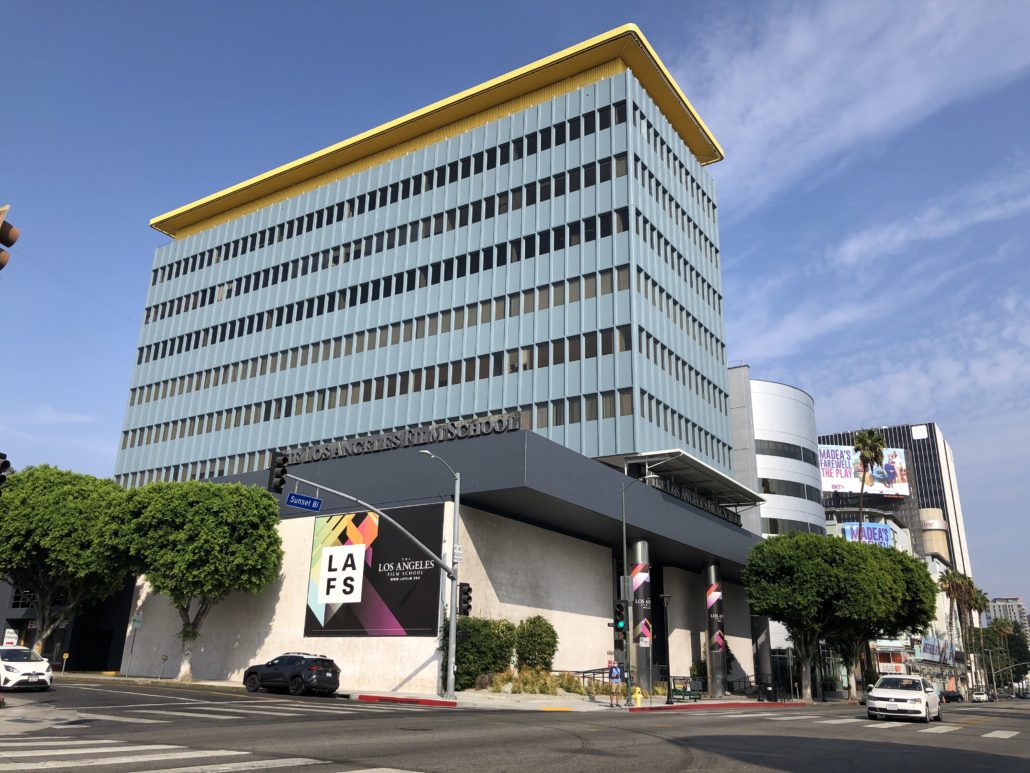 The historic RCA Building at 6363 Sunset Blvd. serves as our cornerstone, housing an array of facilities including five Film Sound Stages (Main Stage, Keaton Stage, Selma Backlot, 7th and 9th Floor Studio Space), an Audio and Film Dub Stage, a Foley Stage, the 330-seat Main Theatre and Lobby, the Campus Library, and classrooms.
Main Theatre – 3,300 sq.ft. Dolby Digital theatre, 330 stadium-style seats, livestream capabilities 
Theatre Lobby – Outside Main Theatre
Studio Floor Space – 9,000 sq.ft. loft style studio space
Dub Stage – 720 sq.ft. 64-fader ICON D-Control ES, video screen, lecture seating 
Classrooms – 1,810-2,000 sq.ft. options available, modern environments
Library – 1,100 sq.ft. 
Main Soundstage – 3,750 sq.ft. large permanent set, full interior and partial exterior
Selma Backlot – Outdoor space, surrounded by walls with mural artwork
Adjacent to the RCA Building, the six-story former Klasky Csupo studio building at 6353 Sunset accommodates the Chaplin Green Screen Stage, Kurosawa/Bergman Stages, Fellini Stage, Hitchcock Stage, the B2 Theatre and Lobby, Admissions Theatre, Film Production Equipment Room, classrooms, and the Los Angeles Film School Main Lobby.
Brain Lobby – Large reception area, central to school, seating, projection screen
Building 2 Theatre – Lecture theatre, projector screen, elevated stage, seats 60
Admissions Theatre – Intimate screening room, projector screen, seats 40
Chaplin Green Screen Stage – 2,736 sq.ft. green screen, equipped with a full lighting grid in ceiling
Kurosawa/Bergmen Sets – 7,055 sq.ft. total, small room sets, set construction area included
Keaton Soundstage – 1,395 sq.ft. small room set
Fellini Soundstage – 2,160 sq.ft. production set
Hitchcock Soundstage – 4,860 sq.ft. production set

As a division of the L.A. Film School, the Recording School building features 14 recording studios, including two SSL Duality studios, two Foley/ADR suites, a Neve Genesys Black console, an Avid S6 console, digital production suites, as well as classrooms and lecture halls.
SS Duality Studio

– 48-channel Solid State Logic Duality with both analog signal routing and processing and control surface functionality.
Digital Production Suites – These suites feature Avid Pro Tools Ultimate workstations with Avid C-24 control surfaces and a live-performance room. 
Foley / ADR Suite – Foley pit with multiple surfaces and materials for recording sound effects and Avid C-24 Control surface and a Pro Tools Ultimate system for editing.
Icon Studios – 32-fader Avid ICON D-Control work surfaces controlling Avid Pro Tools Ultimate digital audio workstation software.
API 1608 Studio – API 1608 analog console with automation interfaced with Avid Pro Tools Ultimate digital audio workstation software.
Neve Genesys Black – A dual-function console/control surface that combines digital control and touchscreen technology with the sonic warmth of Neve analog hardware.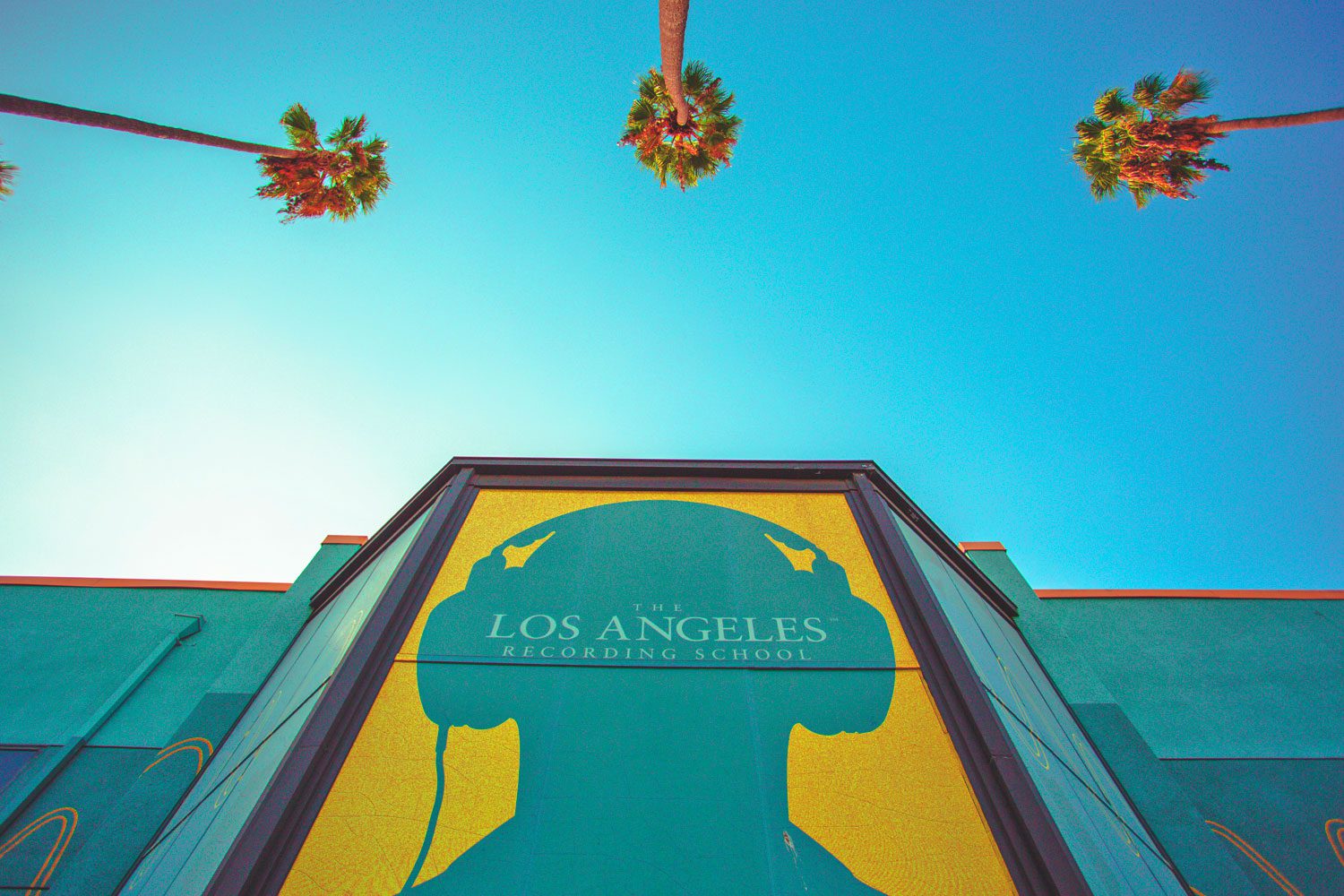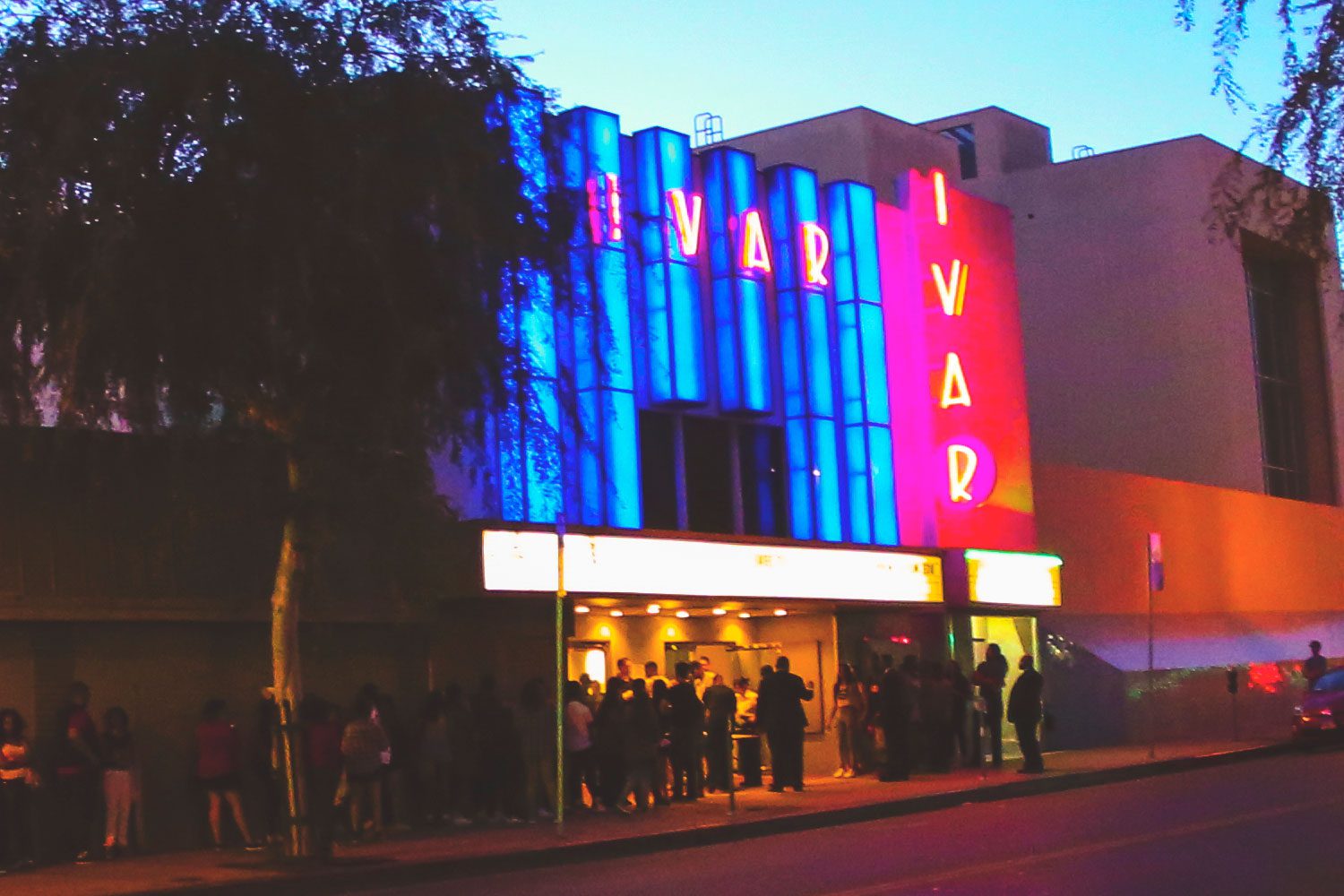 Our Ivar Theatre, a fully equipped historic Hollywood live event production space, is utilized for educational labs and special events throughout the academic year, making it an integral part of our vibrant learning environment.
Ivar Theatre

–

3,198 sq.ft., live venue stage, seats 226:175 in orchestra, 51 in balcony

Brick Box – 1,750 sq.ft., behind Ivar Theatre
Explore our Campus Programs
Fill in the form to be paired with one of our super knowledgeable admissions representatives who will answer any questions you might have about our programs or the enrollment process.
Ready to start school? Begin your application now.
By submitting this form, you give The Los Angeles Film School and its partner schools (Full Sail University and RMCAD) your consent to contact you via phone, email and/or text using automated technology at the information above, including your wireless number, if provided, regarding educational services. Please note that you are not required to provide this consent to receive educational services.