NOTE: All seating is first come first serve.
A ticket does not guarantee a seat.
You must be a student or staff to attend
If you are not a student please contact an admissions representative.
All students and staff must have your school-issued ID visible and with you at all times.
 Tickets reserved with duplicate emails and/or duplicate names will be deleted.
The Los Angeles Film School presents a screening of

Dolemite Is My Name
followed by a Q&A with co-writers
Scott Alexander and Larry Karaszewski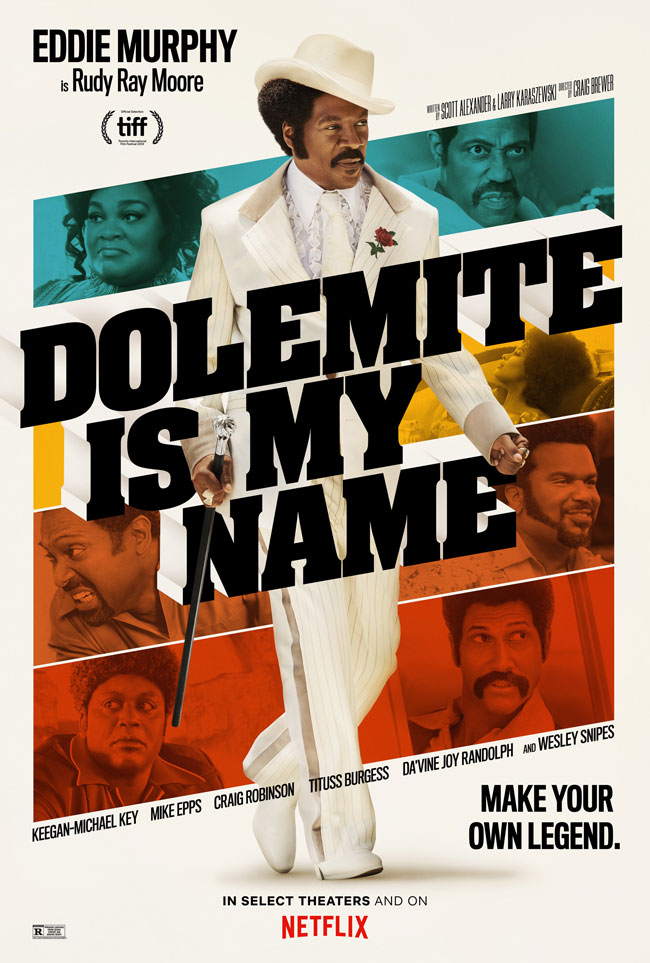 6363 Sunset Blvd. Hollywood CA, 90028
 B1 Main Theater – 7:30 PM 
Wednesday, November 6, 2019
Run time: 117 mins

Rating:  R for pervasive language, crude sexual content and graphic nudity.

Synopsis: Stung by a string of showbiz failures, floundering comedian Rudy Ray Moore (Academy Award nominee Eddie Murphy) has an epiphany that turns him into a word-of-mouth sensation: step onstage as someone else.
Borrowing from the street mythology of 1970s Los Angeles, Moore assumes the persona of Dolemite, a pimp with a cane and an arsenal of obscene fables. However, his ambitions exceed selling bootleg records deemed too racy for mainstream radio stations to play.
Moore convinces a social justice-minded dramatist (Keegan-Michael Key) to write his alter ego a film, incorporating kung fu, car chases, and Lady Reed (Da'Vine Joy Randolph), an ex-backup singer who becomes his unexpected comedic foil. Despite clashing with his pretentious director, D'Urville Martin (Wesley Snipes), and countless production hurdles at their studio in the dilapidated Dunbar Hotel, Moore's Dolemite becomes a runaway box office smash and a defining movie of the Blaxploitation era.
****This ticket does not guarantee a seat ****
 We take a larger number of RSVPs than seats available to compensate for the no-show percentage so all seating is first come first serve. If tickets are sold out you are welcome to show up and you will be seated if room becomes available. LA Film School students / staff / faculty / alumni, please line up inside the theatre lobby. Use of cell phones or computers during the screening is strictly prohibited and you will be asked to leave.
 If you feel you are unable to stand in line for a long period of time, we kindly request that you take a seat on the benches in the B1 theatre lobby and have your guest stand in line to secure a spot. Then when guest/s arrive to the point where they can enter and check in, you will walk in with your guest. Unfortunately, no one will be allowed in before the doors officially open, since we have to give the production team time to set up and test the equipment without an audience.