The Ultimate Guide to Creating Your Film/TV Pitch Deck
We've sourced everything you need to know about creating a pitch deck for your next film project. There is a lot of great information out there and luckily, pitching your script is easier now thanks to the abundance of updated visualization technology. After all, your pitch deck is a visual supplement to your screenplay or script. This is your chance to share your vision of why your film should get made.
First, Let's Look at the Original Stranger Things Pitch Deck "Montauk"
If you follow @lafilmschool on Instagram and Facebook, you may have seen our video on the Stranger Things pitch deck. If you're curious, go back and watch the video to see what three elements made that original pitch deck such a success. We'll dive deeper into what makes a film pitch deck successful here in a moment, but let's examine the original pitch deck from Netflix's Stranger Things.
The Duffer brothers built their franchise empire off a charming, supernatural-inspired show concept they originally called "Montauk." Their pitch neatly laid out the show's vision across a 20+ page pitch deck to attract networks and eventually secured a home with Netflix.
The title page of the pitch deck shows an eerie grey-washed photograph of an abandoned bike on the side of a desolate road. "Montauk" is clearly displayed in red block letters above the photo. The only other text on the title page is… "An Epic Tale of sci-fi horror."
---
The 3 Things the Duffer Brothers included in their pitch deck that made "Montauk" into one of Netflix's most successful series franchises
---
1. Use Imagery That Builds Your Vision
Imagery is used throughout the deck to convey what type of vibe the series is aiming to achieve.
The Duffer Brothers leveraged colors, textures, and even imagery from supernatural '80s cult classics, building a strong vision for investors right off the bat.
2. Write a Clear and Engaging Synopsis
Your readers should feel hooked right from the introduction page. This sets the tone for the rest of the pitch deck and includes a strong final sentence that sums up what's to come:
From Montauk's Pitch Deck: "Emotional, cinematic, and rooted in character, Montauk is a love letter to the golden age of Steven Spielberg and Stephen King – a marriage of human drama and supernatural fear.
Both the STORY and STRUCTURE sections of this pitch did an excellent job of painting a clear trajectory of the story while still giving investors a sense of mystery and intrigue.
3. Appeal to Your Investors' Business Sense
The final page of the pitch deck is "Franchise Potential," which aims to pique the interest of studio executives and networks. It gives a solid story continuation layout if the series were to get picked up and do well with audiences. Spoiler alert—Stranger Things did more than just well, the show was a smash hit.
---
How can you apply these same concepts to your own film or TV show pitch deck?
Now that you've seen what a successful film pitch deck looks like, it's time to perfect your own. Leading with the three essential elements of a great pitch deck (1. Strong imagery 2. Clear synopsis and 3. A future plan), let's dive into your ultimate pitch deck checklist.
Under those three main buckets are subcategories to include in your pitch deck. You'll want to make sure your vision for your project is clearly defined. Potential networks need to see the value of your project's pitch deck and connect with the story synopsis right off the bat.
Your Pitch Deck Should Have… Strong Imagery
Instant visual cues included in your writing
Mood board images to convey the style and tone
Examples of inspiration from other film and TV projects
Your Pitch Deck Should Have a… Clear Synopsis
A brief story introduction following your title slide
Background on the creative team behind the screenplay and/or film project
Introduction of characters (make your audience care and feel a sense of who each character is)
Your Pitch Deck Should Have a… Future Plan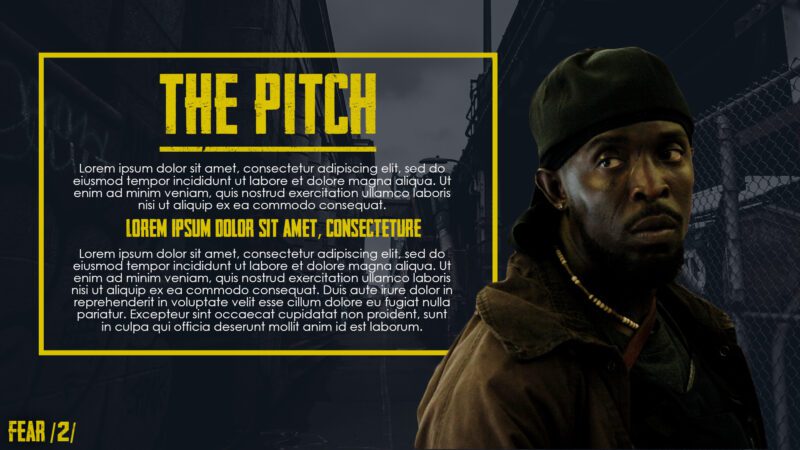 Breakdown of targeted genres and audience demographics
Financial and distribution details
Mention potential installments or series continuation opportunities
Take a look at your own pitch deck and see if you have these elements outlined above. Ask yourself if there is anything missing. Does your pitch deck convey a clear tone and build interest with each slide? Are you representing the project in the most effective way?
STUDENT PRO TIP: If you're a student at The L.A. Film School, you can get your pitch decks and film reels peer-reviewed by our advisors in Career Development or with your course instructors.
https://www.lafilm.edu/wp-content/uploads/2023/04/Montauk_FeaturedImage.jpeg
900
1700
Jourdan Arnaud
https://www.lafilm.edu/wp-content/uploads/2020/03/lafilm-logo-2.png
Jourdan Arnaud
2023-04-18 09:30:00
2023-08-17 12:51:30
The Ultimate Guide to Creating Your Film/TV Pitch Deck